Headlines
Around 70 of more than 100 income tax deductions and exemptions have been removed, in order to simplify tax system and lower tax rates : FM Nirmala Sitharaman

Turnover threshold for audit of MSMEs to be increased from 1 crore to 5 crore rupees, to those businesses which carry out less than 5% of their business in cash : FM Nirmala Sitharaman

Vivad Se Vishwas Scheme – taxpayer to pay only amount of disputed tax, will get complete waiver on interest and penalty, if scheme is availed by March 31, 2020 : Nirmala Sitharaman

Nirmala Siharaman has failed to explain the budgetary maths. As revenue receipts till November are only 45% of the budget estimates there is a gaping hole. Flowery language and high-sounding words and platitudes are meaningless : Anand Sharma, INC

In this budget, the Modi govt has taken effective steps to rationalize the tax system, boost the basic infrastructure, strengthen the banking system, promote investment and ease of doing business, which will further Modi govt's resolve to make India a 5 trillion-dollar economy : Amit Shah

Our youth want jobs. Instead they got the longest budget speech in parliamentary history that said absolutely nothing of consequence. PM & FM both looked like they have absolutely no clue what to do next : Rahul Gandhi

The budget preparations, which began with Halwa for the authorities, ended with Halwa for the people. Long speech, but no solutions : Kamal Haasan

We warmly welcome The Maldives in the Commonwealth and look forward to The Maldives playing a larger role in the comity of nations and realising the full potential as well as aspirations of its people: PM Modi

Government is ready to talk to protestors of Shaheen Bagh but then it should be in a structured form and the N

arendra Modi

govt is ready to communicate with them and clear all their doubts they have against CAA: RS Prasad – Union Minister 

TN CM Edappadi K. Palaniswami has darshan of Lord Venkateswara at Tirumala today

NSUI

President,

Neeraj Kundan

detained by Assam police for peacefully protesting against CAA

Madras High Court calls for review of High Court security, takes critical note of former Judges joining procession on Court campus : Bar & Bench

Creation of 80 new national records in

Khelo India Youth Games

at Guwahati shows the high standard of the Youth Games!: Kiren Rijiju – Union Sports Minister 
National
PM Modi on Budget 2020
The new reforms announced in the budget will speed up the economy, financially empower every citizen of the country and strengthen the foundation of the economy in this decade
Budget 2020
empowers India, Industry and individuals: FICCI President, Sangita Reddy
Our youth want jobs. Instead they got the longest budget speech in parliamentary history that said absolutely nothing of consequence : Rahul Gandhi
Our youth want jobs. Instead they got the longest budget speech in parliamentary history that said absolutely nothing of consequence.

PM & FM both looked like they have absolutely no clue what to do next.

#Budget2020 pic.twitter.com/5oUCs8rp32

— Rahul Gandhi (@RahulGandhi) February 1, 2020
Former Finance Minister P Chidambaram on Budget 2020
P Chidambaram and Randeep Singh Surjewala at Congress HQ on Union Budget 2020 :
Govt. has given up on reviving economy or accelerating the growth rate or promoting private investment or increasing efficiency or creating jobs or winning a greater share of world trade.
I am sure that even most loyal BJP MP or supporter cannot latch on to any idea in Budget speech & take it to people. If ongoing programmes have failed, how can throwing more money into the ongoing programmes change anything?
The government is in complete denial that the economy faces a grave macro economic challenge and the growth rate has declined in six successive quarters.
The Indian economy is demand-constrained and investment-starved. The FM has not acknowledged these two challenges, and that is a pity. Consequently, she has proposed no measures or solutions to those two challenges.
Food subsidy has been reduced, fertiliser subsidy has been reduced. Petroleum subsidy shows a marginal increase because of anticipated increase in oil prices.
FM failed on marksmanship. In 2019-20, she failed to meet any of the key BE targets- nominal GDP growth, fiscal deficit, net tax revenue collection, disinvestment revenue or total expenditure. There's no assurance that she'll meet targets set for 2020-21.
Did the FM read the Economic Survey? Was the Chief Economic Adviser privy to the contents of the Budget speech? I think the answer to both questions is in the negative.
The 16 Action Points for farmers in Union Budget 2020-21
Union Budget

2020-21

Highlights
Finance Minister Nirmala Sitharaman presented the Union Budget 2020-21 today.
Budget Highlights :
PM KUSUM to be expanded to provide 20 lakh farmers in setting up standalone solar pumps.
Farmers who have fallow or barren land will be helped to set up solar power generation units and also sell surplus power to the solar grid.
We will encourage balanced use of all fertilizers, to change the incentive regime which encourages excessive use of chemical fertilizers
Warehouses will be set up, viability gap funding to be provided to set up warehouses.
Village Storage Scheme run by SHGs, will provide holding capacity for farmers, women in villages can regain their status as Dhaanya Lakshmi.
Kisan Rail for transportation of perishable goods.
Krishi UDAN will be launched by Ministry of Civil Aviation on international and national routes.
Degree-level full-fledged online education programme to be offered by institutes in top 100 in National Institutional Ranking Framework

IND-SAT exam to be held in African and Asian countries, for benchmarking foreign candidates who wish to

Study In India.

A medical college to be attached to a district hospital in PPP mode.
nvestment Clearance Cell to set up through a portal, will provide end-to-end facilitation, support and information on land banks
I lakh Gram Panchayats to be connected to the fibernet programme this year itself.
Large solar power capacity to be set up alongside rail tracks.
100 more airports to be developed by 2024 to support the UDAN scheme.
Policy for private sector to build Data Centre Parks throughout the country.
'Tax Payers Charter' to be included in the Statute to ensure citizens are free from harassment.
Insurance cover for a depositor enhanced from Rs 1 Lakh to Rs 5 Lakhs.
National Recruitment Agency to be set up for conducting common online eligibility tests for recruitment to non-gazetted posts in government and PSBs.
Under the new simplified Personalised Income Tax regime an individual now has to be pay tax at a reduced rate of

10% for 5 – 7.5 lakhs income, against the prevailing 20%,
15% for 7.5 – 10 lakhs income, against the prevailing 20%,
20% for 10 – 12.5 Lakhs income, against the prevailing 30%
25% for 12.5 – 15 Lakhs income, against the prevailing 30%
if not availing any deductions
Under Vivad Se Vishwas Scheme, taxpayer to pay only amount of disputed tax, will get complete waiver on interest and penalty, if scheme is availed by March 31, 2020
Turnover threshold for audit of MSMEs to be increased from 1 crore to 5 crore rupees, to those businesses which carry out less than 5% of their business in cash.
A system to be launched soon, for instant online allotment of PAN .
As per tradition, Finance Minister N S

itharaman

calls on President Kovind at Rashtrapati Bhavan before presenting the Union Budget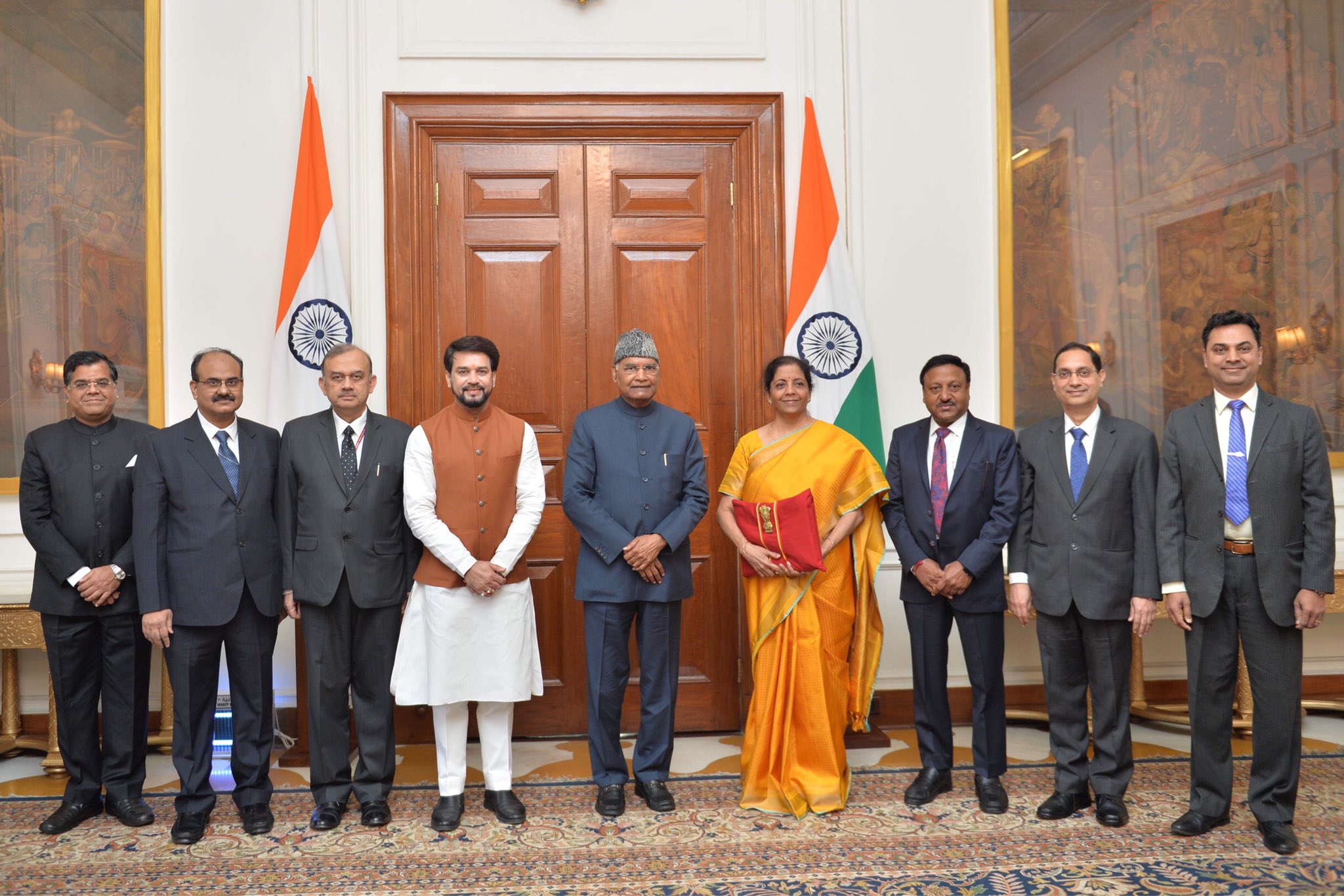 Pic Credit: @rashtrapatibhvn
From the
National Level Declamation Contest
She is Miss Makhecha Riddhi H from Gujarat who secured 2nd position in the high standard National Level Declamation Contest organized by

NYKS

.

Congratulations to the winners and the participants from States and UTs.

A short clip..
She is Miss Makhecha Riddhi H from Gujarat who secured 2nd position in the high standard National Level Declamation Contest organized by #NYKS. Congratulations to the winners and the participants from States and UTs. A short clip.. pic.twitter.com/SLtmcljg0U

— Kiren Rijiju (@KirenRijiju) February 1, 2020