Headlines
PM Modi announces the formation of Shri Ram Janmabhoomi Teerth Kshetra Trust in the Lok Sabha today

We have opened up the defence sector for 100% FDI: PM Modi after inaugurating Defence Expo 2020 in Lucknow

Defence Ministers from 40 countries,  more than 165 foreign firms and around 1000 exhibitors are participating in Def Expo 2020: Rajnath Singh

Delighted and proud that

Jaipur

has got

UNESCO

Heritage Certificate: Ashok Gehlot – Rajasthan CM

Brinda Karat moves Delhi Court against Anurag Thakur for registration of FIR for hate speech: @Bar&Bench

Cabinet

desision paves way for

Alliance Air to operate 

International flights between

India

and

Sri Lanka 
National News
'A Historic step'
Prime Minister Narendra Modi, @narendramodi:
Today we take a historic step ahead towards building a grand Ram Temple in Ayodhya!
It was my honour to address the Lok Sabha on this subject, which is special to many.
I also applauded the remarkable spirit of the people of India.
This is what I said…
Home Minister
Amit Shah
congratulates PM N
arendra Modi
for announcing the formation of Shri Ram Janma Bhoomi Teerth Kshetra Trust, today
Via @PIB_India
He said in Parliament today that this day is a day of immense joy and pride for the entire country.
The Home Minister said, "I congratulate the Prime Minister Shri Narendra Modi for his commitment to the building of Lord Shri Ram temple, a symbol of India's belief and unwavering faith".
According to the order of the Supreme Court on Shri Ram Janmabhoomi, the Government of India has taken a historic decision today to form a trust in the name of Shri Ram Janmabhoomi Tirtha Kshetra, showing its commitment towards the construction of the grand temple of Lord Shri Ram in Ayodhya.
Shri Shah said that Shri Ram Janmabhoomi Teerth Kshetra Trust will have 15 trustees, out of which one trustee will always be from Dalit community.
He said, "I congratulate the Prime Minister for many such unprecedented decisions that strengthen social harmony".
The Home Minister said that this trust will be completely free to take every decision related to the temple and 67 acres of land will be transferred to the trust.
"I am confident that millions of people who were waiting for centuries will soon be able to see the grand temple of Lord Shri Ram at his birthplace", he said.
Prime Minister N

arendra Modi

inaugurates

Defence Expo 2020

in

Lucknow
Prime Minister @narendramodi inaugurates #DefExpo2020 in #Lucknow.

It's one of India's largest defence exhibition platform and also one of the top #DefExpo in the world.@DefExpoIndia @rajnathsingh @DefenceMinIndia

Read more at: https://t.co/gB2Bk4LDbv pic.twitter.com/tQgxMHrAUP

— PIB India (@PIB_India) February 5, 2020
We have opened up the defence sector for 100% FDI: PM Modi after inaugurating Defence Expo 2020 in Lucknow
PM

Narendra Modi

being welcomed by the dignitaries on his arrival at Lucknow, to inaugurate 11th Edition of the Biennial Mega Defence Exhibition '

DefExpo2020′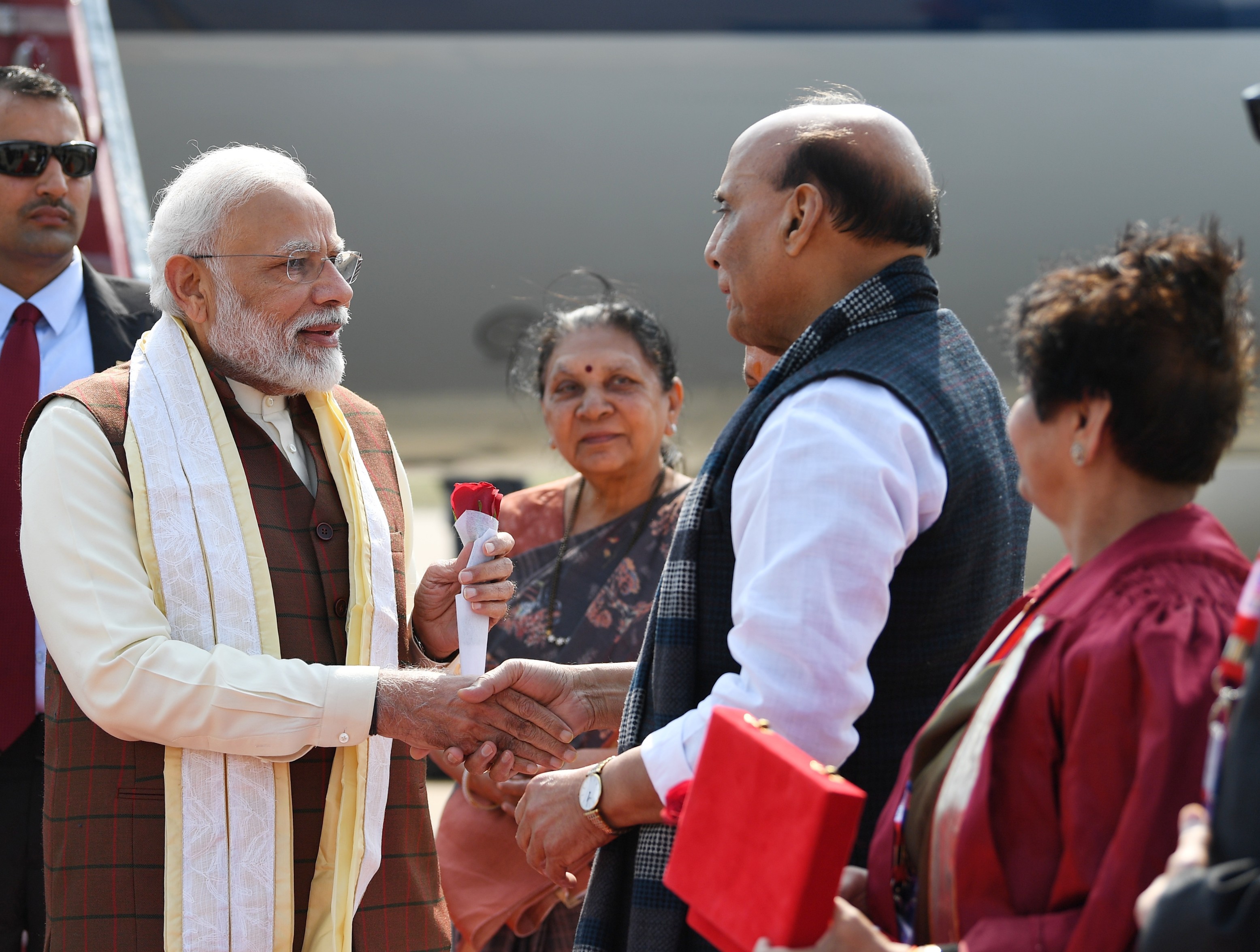 Pic Credit: @PIB_india
Rahul Gandhi to PM Modi
Dear PM,
The economy has imploded & you must be racking your brains on how to avoid the blame.
Use the useless budget presented by clueless Nirmala Ji.
Sack her & dump the entire blame on her.
Problem solved.
Jaipur gets UNESCO's Heritage City tag
Ashok Gehlot, @ashokgehlot51 – Chief Minister of Rajasthan:
Delighted and proud that

Jaipur

has got

UNESCO

Heritage Certificate.

I dedicate the honour to people of the Pink City and state.

Jaipur is one of the most well planned and beautiful cities of the world.

Let us preserve the heritage of the capital city.
'Their politics will be over as soon as they give employment'
Congress leader Rahul Gandhi addressed a public rally at Matia Mahal in Delhi today. Excerpts:
Whoever thinks that this country can move forward without unity, love and brotherhood, then he has no understanding about this country and its history.
Today, the youth of the country do not differentiate between Hindu and Muslim. They love each other. They might be angry but there's a difference between hate and anger.
Oxygen of Modi's politics is unemployment . Therefore, they do not provide employment to the youth. Their politics will be over as soon as they give employment.
India cannot progress without Hindu-Muslim-Sikh-Christian unity.
If India and Delhi cannot provide employment to their youth, then the violence and hatred that exists today will grow manifold. Unemployment is a big challenge and only Congress can give employment to youth.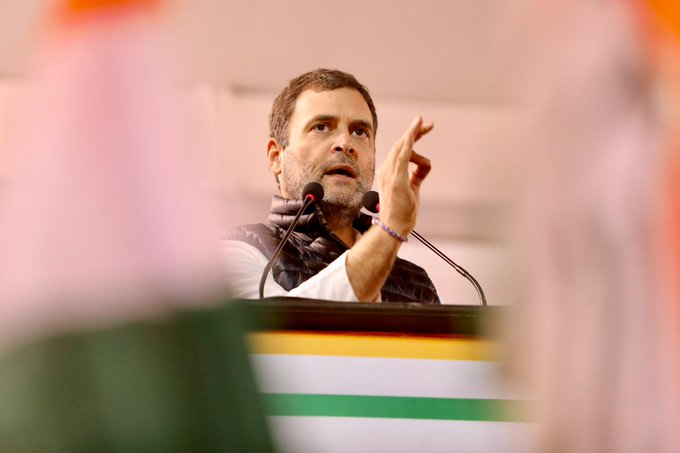 Content Source/Pic Credit: @INCIndia
'This step will weaken Indian financial system hugely..'
Dr Subramanian Swamy,
@Swamy39:
Portfolio foreign investment has received in the 2020 Budget—incentives.
This step will weaken Indian financial system hugely and thus foreign short term funds will be positioned to de-stabilise our economy as it happened to East Asia in 1997-2000.
Cabinet
desision paves way for
International flights between
India
and
Sri Lanka by Alliance Air
@PIB_India:
The Union Cabinet, chaired by the Prime Minister Narendra Modi, has granted ex-post facto dispensation to Alliance Air, a 100% subsidiary of Air India, to fly on international sectors between India and Sri Lanka.
A special dispensation is allowed for the interim period till Alliance Air deploys minimum of 20 Aircraft or 20% of total capacity, whichever is higher for domestic operations.
India has close bilateral ties with Sri Lanka and our interest is to increase connectivity and to expand people to people contacts between the two countries.
Prior to this approval there was no commercial operation scheduled from Palaly and Batticaloa airports.
I invite Amit Shah ji to a debate on issues ahead of Delhi elections. I am ready to debate every issue: Arvind Kejriwal
मैं अमित शाह जी को दिल्ली चुनाव के मुद्दों पर बहस करने के लिए आमंत्रित करता हूँ। हर मुद्दे पर बहस करने के लिए तैयार हूँ। pic.twitter.com/3Ff4kGMd8z

— Arvind Kejriwal (@ArvindKejriwal) February 5, 2020
'People of Assam are all set to welcome PM Modi'
Sarbananda Sonowal,
@sarbanandsonwal –
Chief Minister of Assam:
Reviewed preparations at Kokrajhar for the Feb 7

Bodo Peace Accord

celebrations in presence of PM N

arendra Modi

ji.

The decades long Bodo issue saw final solution due to the leadership of Modi ji.

People of Assam are all set to welcome the Hon'ble PM on this historic occasion.
Pic Credit:

@sarbanandsonwal