Headlines
The Rt Hon Rishi Sunak M

has been appointed Chancellor of the Exchequer, Tweeted UK Prime Minister office @10Downing Street.

Rishi Sunak is the son-in-law of Infosys Co-founder Narayana Murthy

I will meet anyone who is willing to talk on CAA and NRC. I will meet them within 3 days : Amit Shah

There is no requirement to provide documents under NPR exercise. Information sought just has to be recorded orally but Congress party is spreading misinformation about it : Amit Shah

No decision has been made on the NRC. It is in our party's manifesto. Even the PM has said publicly that no decision has been taken yet on NRC : Amit Shah

Pravasi Bhartiya Kendra to be renamed as Sushma Swaraj Bhawan : MEA

Nobel laureate RK Pachauri, founder chairman of TERI, passes away

President of Portugal Marcelo Rebelo de Sousa arrives on his first State Visit to India

President Kovind presents Colour to INS Shivaji in Lonavala, Maharashtra

Waiting period is really painful: Kerala HC's Justice PV Kunhikrishnan two years after he was recommended for elevation. PV Kunhikrishnan was sworn in as an additional judge of the Kerala High Court today – Bar & Bench

Inflation for the month January 2020, at 7.59%, has been driven by vegetables and pulses. Cereals and other non-food items have shown a moderate rise of around 5% : Ministry of Finance

More than 1 million people have joined AAP within 24 hours of our massive victory: @AamAadmiParty
National
I will meet anyone who is willing to talk on CAA and NRC. I will meet them within 3 days : Amit Shah
Home Minister Amit Shah at the Times Now Summit:
No decision has been made on the NRC. It is in our party's manifesto. Even the PM has said publicly that no decision has been taken yet on NRC.
While the protests must be looked at, journalists must also look at the reason for the protests.I haven't been told the reason for these protests by anyone. Which Article in the Act is an issue? How is this Act anti-Muslim or anti-minority?.
On 30 March 1964, Home Ministry had given assent to let Hindus and Sikhs live in India on long-term visas. In several instances in the past, Congress Govt has said that Hindus and Sikhs should be given long-term visas to help them live in India.
On 17 Nov 1984, the Ministry of Home Affairs wrote a letter to Rajasthan Govt to not deport any Hindus or Sikhs. Later CCPA approved this move.
When Congress does these things, it is called secular. When the BJP does it legally and turns this into an Act, it is termed communal.
After CAA was passed in Parliament, 74 Hindus from Pakistan have been given citizenship by the Congress Govt in Rajasthan on 12th December 2019.
Everyone has a right to protest peacefully and we acknowledge that. We're tolerant of such protests.They have their right in a democracy. Delhi Police in Jamia chased people who had burnt a bus. No one has a right to burn a bus in India.
No one should be making extremist statements. It is dangerous for the country. That is why we have put Sharjeel Imam behind bars, who made such remarks in Shaheen Bagh.
Decisions on detention of leaders under PSA in Jammu & Kashmir are taken by local administration. Union government does not intervene in it. The detained leaders have all legal recourse available to them.
We will fulfill our promise of sending back Kashmiri Pandits to their homes. 4 lakh people were displaced and they got no representation. Your coverage should be on the right issues as well.
Thousands were killed, lakhs ran away from their homes and are currently living in temporary colonies. No one raises their voice for them. If this is secularism, I don't agree with this secularism.
There is no requirement to provide documents under NPR exercise. Information sought just has to be recorded orally but Congress party is spreading misinformation about it.
All political leaders can visit Kashmir now. They (Rahul Gandhi and Sitaram Yechury) never went to Kashmir after they were stopped once. They can go now: anyone can go there now, we will give permission to everyone.
Rishi Sunak, the son-in-law of Infosys Co-founder Narayana Murthy is the new Finance Minister of UK
@10Downing Street
: 
The Rt Hon Rishi Sunak MP @RishiSunak has been appointed Chancellor of the Exchequer @HMTreasury
@ShashiTharoor : 
Dear

@RishiSunak, 

Warmest congratulations on your appointment as Chancellor of the Exchequer.

What splendid news — All Indians could not be prouder!

Best wishes in your challenging new responsibilities!
Pravasi Bhartiya Kendra to be renamed as Sushma Swaraj Bhawan
Dr. S. Jaishankar,
@DrSJaishankar –
External Affairs Minister of India:
We all fondly remember Smt Sushma Swaraj, who would have turned 68 tomorrow.

The

MEA

family misses her in particular.

Glad to announce that the Government has decided to rename Pravasi Bhartiya Kendra as Sushma Swaraj Bhawan and Foreign Service Institute as Sushma Swaraj Institute of Foreign Service.

A fitting tribute to a great public figure who continues to inspire us.
BJP National President

JP Nadda

has appointed Mr

Chandrakant Patil

as the President of Maharashtra Bharatiya Janata Party and Mr

Mangal Prabhat Lodha

as President of Mumbai Metropolitan Bharatiya Janata Party: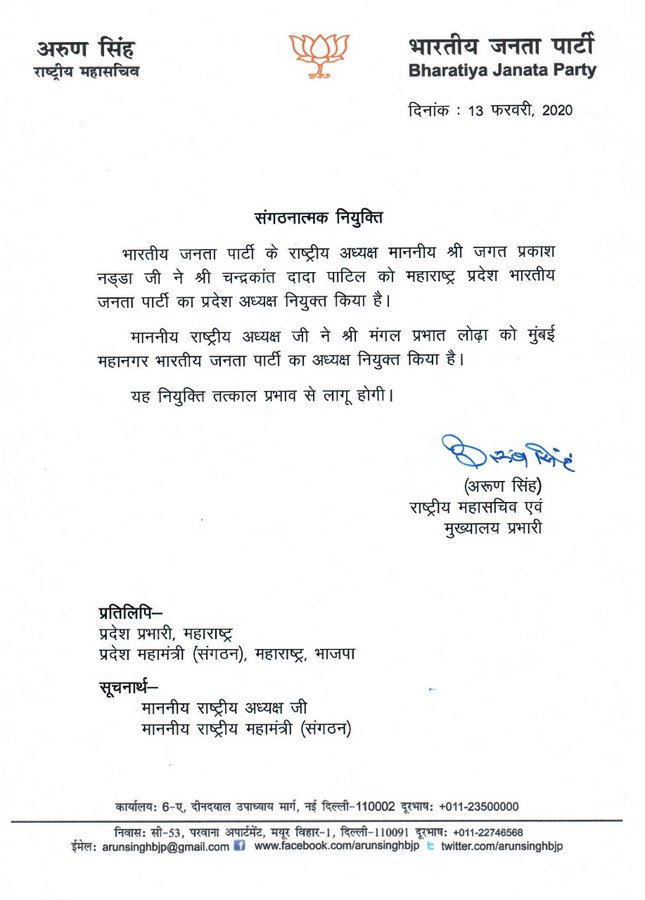 'Here's the truth'
Jairam Ramesh,
@Jairam_Ramesh –
Member of Parliament, Congress leader:
In light of the fake news doing the rounds that Pandit Jawaharlal Nehru did not want Sardar Vallabhbhai Patel in his cabinet, sharing a series of letters & documents. Here's the truth:
1. Nehru letter to Mountbatten of July 19th 1947 with Patel right on top of new cabinet list
2. Nehru letter to Patel dated July 19 1947 shows how Patel was a close confidante & ally of Nehru in cabinet formation
3. Nehru letter to Patel dated August 1 1947, where he writes, "you are the strongest pillar of the Cabinet."

4.Nehru letter to Mountbatten dated August 4 1947 with Patel again on top of the new Cabinet list.
5. Nehru letter to Patel dated August 4 1947 forwarding the same list.
6. Office Note of Nehru dated August 14 1947 with Patel as No.2 in the Cabinet.

Randeep Singh Surjewala addresses media at Congress HQ on LPG Cylinders Price Hike
Am humbled by the kind words and blessings from His Holiness The Dalai Lama. Thank you very much
@DalaiLama : Arvind Kejriwal
https://dalailama.com/news/2020/congratulating-chief-minister-of-delhi-arvind-kejriwal/amp?__twitter_impression=true
Lok Sabha Speaker Om Birla,
Leader of Opposition Rajya Sabha, Ghulam Nabi Azad; former Dy PM LK Advani; MPs & other dignitaries pay floral tributes to Sarojini Naidu on the occasion of her birth anniversary in Central Hall, Parliament House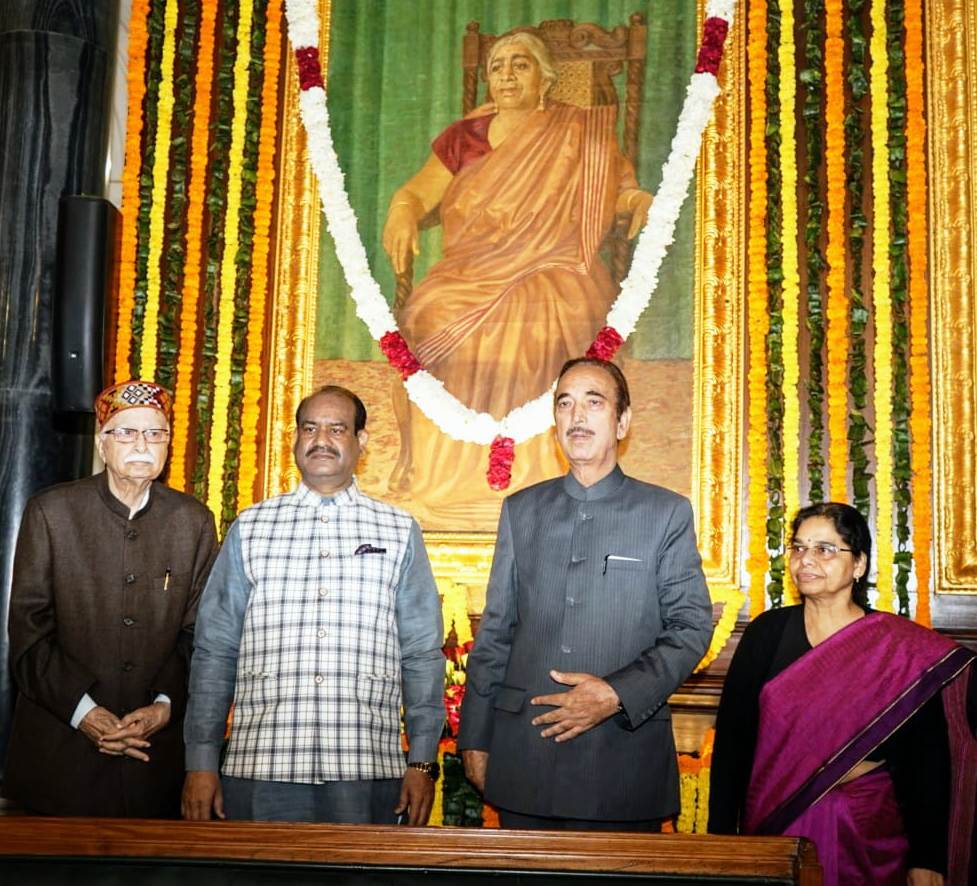 Pic Credit: @LokSabhaSectt
President Kovind presents Colour to INS Shivaji in Lonavala
President Kovind:
Happy to present the President's Colour to INS Shivaji in Lonavala, Maharashtra.
I compliment the Indian Navy and INS Shivaji on this proud occasion and urge all the men and women to continue their selfless and dedicated service to the nation.
'Preparations for the annual
Attukal Pongala'
Shashi Tharoor :
Attended the meeting chaired by the DevaswomMinister to discuss preparations for the annual

Attukal Pongala

, the world's biggest gathering of women (as certified by Guinness).

This temple festival sees millions of women from across the region congregate in Thiruvananthapuram in February.