Headlines
Supreme Court asks Senior Counsel Sanjay Hegde, Advocate Sadhana Ramachandran along with a third person, as interlocutors, to hold talks with the Shaheen Bagh protesters. The Court will hear the matter on next Monday: @Bar&Bench

Women officers to be granted Permanent Commission at par with male counterparts, Absolute exclusion from Command Postings violates Articles 14 – Supreme Court: Bar & Bench

I would like to compliment the citizens of Jamshedpur on completion of 100 years of their city. I hope this city continues to be a role model for sustainable urban development : VP Venkaiah Naidu

A nine-Judge Constitution Bench of the

Supreme Court

begins hearing today arguments on the issue of women's rights vis-a-vis Religious rights : Bar & Bench

Migratory species connect the planet and together we welcome them home : PM Modi addressing the UN Conference on Conservation of Migratory Species via Video Conferencing
National
'Migratory species connect the planet and together we welcome them home'
PM inaugurates convention on Conservation of Migratory Species of Wild Animals at Gandhinagar :
India has been championing Climate Action based on the values of conservation, sustainable lifestyle and green development model.
India is one of the few countries whose actions are compliant with the Paris Agreement goal of keeping rise in temperature to below 2 degree Celsius.
As you might have noticed, the CMS COP 13 Logo is inspired by the traditional 'KOLAM' from southern India, which has a profound significance in the context of living in harmony with nature.
We have been traditionally practicing the mantra of "Athithi Devo Bhava", this has been reflected in the slogan theme for the CMS COP 13: "Migratory species connect the planet and together we welcome them home".
India proposes to strengthen its association with the ASEAN and East Asia Summit countries. This would be in sync with the Indo Pacific Ocean Initiative (IPOI), wherein India will be playing a leadership role.
My Government firmly believes in the path of sustainable development. We are ensuring that development happens without harming the environment.
'National Debate required in INC on these issues'
@ManishTewari – National Spokesperson, INC :
Addressed State Training Camp of Punjab Youth Congress. Asked them to Introspect :
Why are they in the Congress Party?
Is the Economic Philosophy & direction of INC Correct?
What is the meaning of Secularism?
How should INC define it's nationalism?
How should INC deal with revolt against entitlement across country-especially among Youth?
How should INC be reconverted from electoral Machine back into a Political Party?
Implications of a Double Zero in Delhi on Punjab &Nationally on INC?
Pic Courtesy :

@ManishTewari
India's first planned industrial city – Jamshedpur competes 100 years.
Jamshedpur completes 100 years since it was named so by the then viceroy of India, Lord Chelmsford, in 1919.
@VPSecretariat – Vice President M Venkaiah Naidu :
I am very happy to be in Jamshedpur today, which is India's first planned industrial city. The seeds of industrialization in India were sown here by the visionary industrialist Shri Jamsetji Tata.
I would like to compliment the citizens of Jamshedpur on completion of 100 years of their city. I hope this city continues to be a role model for sustainable urban development.
By 2050 the industry requirements would be totally different from today. In this technologically-driven era, it is important for all business enterprises and manufacturing units to train and retrain their employees to face future challenges.
Large part of our economic activity is dependent on farmers and sectors allied with it. There is a need for collective efforts to ensure that agriculture becomes profitable and sustainable.
Climate change has emerged as one of the most pressing global challenges of 21st century. Need of the hour is to work together and evolve a sustainable development strategy.
Pic Courtesy : @VPSecretariat
'The man who I am proud to call my Father'
@KTRTRS – KTR, Minister, Telangana :
To the most Versatile, Courageous, Compassionate, Charismatic & Dynamic man that I know; The man who I am proud to call my Father.

May you live long & may you continue to inspire us all with your vision & commitment.

Each of us in our family have planted saplings today as part of '

Each One Plant One'.

Many thanks to all those who have shown their love through plantation drive today. Request you to kindly take care of the saplings for the next couple of years to ensure successful survival.
Seeding through drones as part of Haritha Haaram at Veernapalli in Sircilla constituency today.
Pic Courtesy : @KTRTRS
Delhi CM Arvind Kejriwal, Dy CM Manish Sisodia, Ministers Satyendar Jain, Kailash Gahlot, Gopal Rai,

Imran Hussaain formally took charge at their respective Ministeries in Delhi today 
Pic Credit: @AamAadmiParty
'Welcome
Telangana CM's
decision to adopt anti-CAA resolution'
Asaduddin Owaisi,
@asadowaisi –
President, AIMIM:
From my presser earlier today:
Welcome

Telangana CM's

 decision to adopt anti-CAA resolution. We'll continue to urge him to stay NPR

Jamia videos disprove lies of the cops. An FIR must be filed against police & independent investigation must be conducted
'I hope to come back here one day and eat it's fruits too!'
@KirenRijiju – Kiren Rijiju :
Three years back I had planted this apple sapling here at ITBP Camp, Auli.

The

ITB personnel have taken good care of it and the plant is healthy as well as growing fast.
I hope to come back here one day and eat it's fruits too!
Pic Courtesy : @KirenRijiju
Wishing Hon. Praful Patel

Bhai – Happy Birthday! Have a Healthy Year Ahead!:

Supriya Sule – NCP leader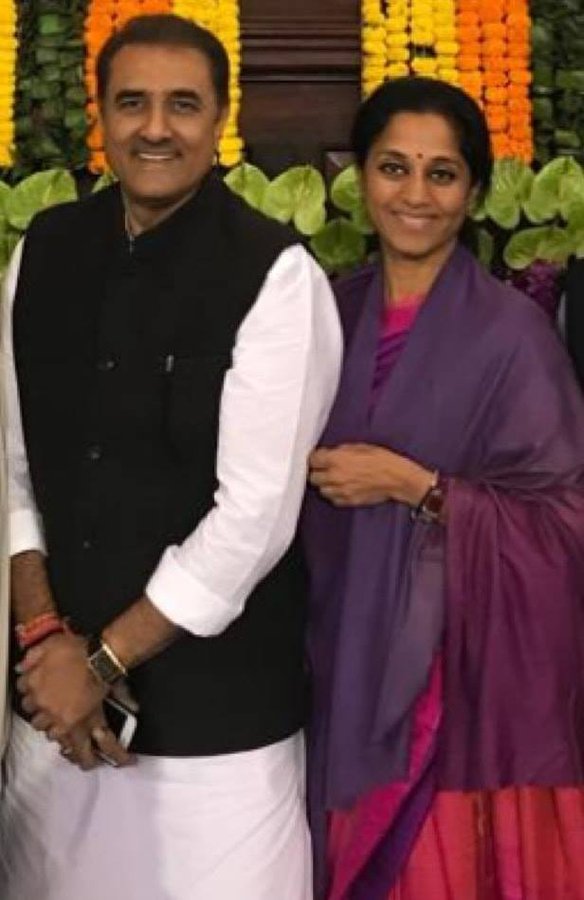 Pic Credit:
@supriya_sule